Under the Hood: A Guide to HVN Tokenomics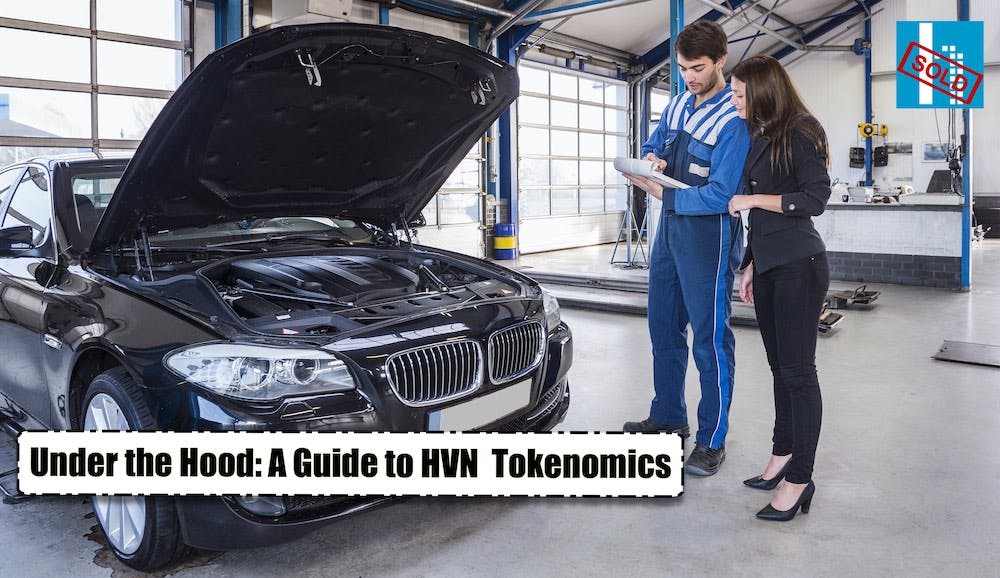 Since Hiveterminal started life in the summer of 2017, there has been no real examination of HVN's tokenomics published. Since we are such big fans of Hiveterminal and its native token, we wanted to put that right. Purely for information purposes, join us as we go under the hood to take a look at how it all works.
HVN is an ERC20 token for Hiveterminal, a blockchain-based platform where businesses can sell their unpaid invoices at a discount to investors. This process is called factoring and is a $6 trillion global industry. They launched in 2018 and have been building a strong business ever since.
There are 500 million HVN tokens. These do not represent equity in Hiveterminal. They are utility tokens which give the holder the right to access the host platform.
The Hiveterminal team owns just under 90 million HVN tokens (18% of the total supply). Since they were distributed, these tokens have remained locked until further notice.
HVN use case
To use the platform, you need HVN for two reasons. First, to view the market. Second, to pay all fees on Hiveterminal.
You can buy HVN using bitcoin or ethereum on exchanges like HitBTC, Livecoin and Lykke. Or you can buy them on Hiveterminal with euros. Hiveterminal buys their HVN from exchanges to provide this service, which is known as the OTC (over the counter) mechanism. 
The OTC mechanism
This system is being offered to liquidity providers unaware or crypto newcomers who are unfamiliar with buying tokens on an exchange. On the Hiveterminal platform, an invoice buyer can buy tokens with the click of a button. For this convenience the token is priced at twice the market rate on crypto exchanges and updated once a day. 
Although more expensive than the exchanges, you can quickly and easily buy as much HVN as you like for the price Hiveterminal set. Depending on what's available on exchanges - and how much you buy - it can even work out cheaper this way.
Selling these tokens for arbitrage profit is currently Hiveterminal's main income source. They believe that most of Hiveterminal's users will be non-crypto liquidity providers that prefer the convenience of the OTC option. This is particularly true for businesses where setting up a crypto trading account is more awkward.
Paying HVN fee for invoice purchases
Here's an example of how you pay your HVN fees for invoice purchases on Hiveterminal.
Say you buy an invoice on Hiveterminal worth €5,000 with a discount of 7.5%. That means you need to send €4,625. The fee for purchasing is 1% of the amount funded, which is €46.25 and needs to be paid in HVN.
For example, today's HVN/EUR exchange rate might be 0.003134
So the HVN fee is: €46.25 / (0.003134 * 2) = 7,378 HVN
Locking up tokens
These HVN fees paid to Hiveterminal are not burned. When an invoice is sold, the HVNs are locked away and taken out of circulation. 
Technically they are not locked from a crypto perspective. In that sense, "locking" them would mean putting them into a wallet which would be locked by a smart contract till date X. That's not how Hiveterminal refer to locking. They say a token is locked when it is only sold back to the market if there is a need for liquidity, but the conditions for this remain unspecified.
Regardless, the effect is that this diminishes the token supply, meaning there will be fewer tokens available to convert into the fiat value of invoice fees, increasing the value of the token in the system. Due to regulations about burning, Hiveterminal decided that "locking" was a safe and viable alternative, but with similar effects.
Unlike a lot of coins, the value of HVN has not been artificially inflated through mechanisms such as burning or hyping, which then encourages speculation. Put simply, the greater the value of invoices sold, the greater the organic demand for HVN. As long as Hiveterminal keeps their HVN fees locked, the available supply reduces. That's why we're excited. Finally we have healthy tokenomics for a real utility token.
Why do people buy HVN tokens? 
Some people buy HVN for their intended purpose: to pay their fees when purchasing invoices on Hiveterminal. 
Others keep stacking HVN because they like the tokenomics and are waiting for HVN to reach a higher price in the future. 
Until now, Hiveterminal has been limited to just testing the platform with businesses in Slovenia. But having processed almost EUR 1 million in invoice funding already, they are ready to take the next big step.
They now have the green light to begin expansion into the rest of the EU by the end of June 2020. Invoice volumes should rise. The platform should get busier. Then we will finally start seeing whether Hiveterminal's strong platform gets a utility token to match.
Theories about the future of HVN tokenomics
The Hiveterminal Community Telegram Group is an interesting place to be. Friendly and welcoming, there's often conversations going on about the future potential of HVN tokenomics. 
Although unconfirmed by the team, there's one popular idea that comes up about how HVN's tokenomics may develop. This is by no means planned, but does serve as an example of what could be possible. To explain it, we first need to see who HVN's token holders are now and who they will be in the future. 
Token holders are broken down as follows:
ICO participants 
People who bought tokens sold by ICO participants on an exchange
Invoice buyers who purchased tokens through the OTC mechanism; and 
Hiveterminal (including the project founders and VC owner).
As mentioned earlier, the team owns 17.9424% of all tokens or +/- 90 million tokens from the ICO token distribution. We do not know how many HVN tokens they have collected in invoice purchase fees. However, at this early stage, it is safe to assume that the group of hodlers holds the majority of the tokens. 
During the lifetime of the Hiveterminal platform this balance will change. The current token model ensures that Hiveterminal will always become the largest token holder eventually. 
This theory comprises three major parts. The existing tokenomics already includes the locking up of tokens and the OTC mechanism. However, a third aspect which is not in place right now could present some very interesting possibilities. 
Locking up of tokens
OTC mechanism 
The use of the HVN token as collateral
HVN tokens as collateral
This is a concept that is not in place right now, but it is interesting to highlight this possibility as a possible future implementation. According to this concept, an amount of HVN tokens would be offered as collateral against a fiat amount. This fiat could be used to purchase invoices and earn interest on these invoices. In this way, it would be possible to use HVN token holdings to gain a passive form of income. This is not a new model and is already being used by projects like Nexo and Celsius in an adapted form. Therefore, the possibility of implementing such a model into Hiveterminal is not unthinkable, but remains (as for now) in the realms of speculation. 
Despite that, it is interesting to include the idea of HVN tokens serving as collateral with the other two concepts that are already in place (locking up of tokens and OTC). As mentioned before, by design Hiveterminal will become the biggest token holder off all token holders. Due to the circulation set up, the HVN tokens will always end up with Hiveterminal. The pace of redistribution of these tokens and how fast it happens is under Hiveterminal's control.
There are three key reasons why this would be good for Hiveterminal:
The first is the most obvious. The lower the redistribution of tokens, the higher the token value and the higher the value of their own holdings. Note: this is always coupled with a flourishing platform.
The second is more pragmatic. They have full control over upholding the deflationary aspect of the token value by controlling the pace of redistribution. The more tokens they have, the easier it is to maintain this control with less effort if the price continues to increase. Note: this does not have to have impact on their earnings but that is another discussion. 
The third reason why this model would be good for Hiveterminal is the most interesting one. When the option of using the token as collateral eventually becomes a reality, it is possible to gain another stream of income by providing liquidity through their token holdings - and earn interest in fiat. This would mean that every transaction that happens with HVN tokens turns into profit for Hiveterminal.
Drilling down on these benefits further:
They sell OTC and earn income (this stays the same) 
The use case for the token and its potential value increases massively 
More tokens locked away means an increase in value. An increase in value turns into an increase in liquidity. From this, there would be an increase in interest earnings, which would be a new revenue stream. 
Although token locking and the OTC mechanism are already in place, also using HVN tokens as collateral could represent a remarkable profit model with significant incentive for an ever-increasing token valuation at its centre. Current token holders would also benefit from this model due to the higher demand for the token and the possibility of gaining passive income on their token holdings. There are an increasing number of tokens being used as collateral in the crypto space. That's why it does not seem far-fetched for this to be on the table for the HVN token in the future too.  
So, there you have it. That's HVN's tokenomics in a nutshell, plus one of our theories for the future. If you have any comments or ideas, we'd love to hear from you in the comments. Better yet, come and join us at our Telegram group to learn more!
Published by @soldonhive on Monday 27th April 2020
---
---