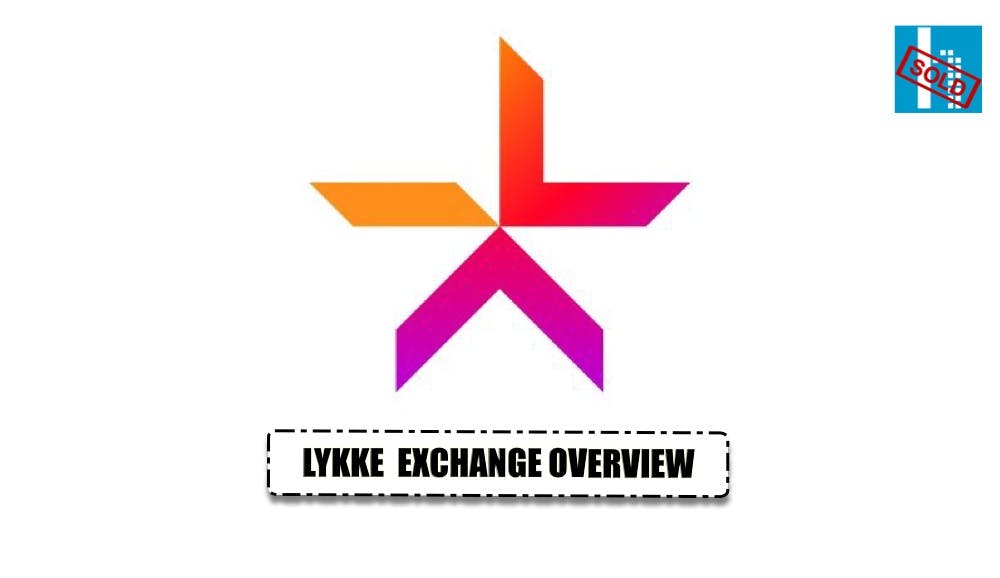 Something of a dark horse in the blockchain space, Lykke has a wealth of know-how when it comes to asset tokenization. Although they are under the radar for now, who knows how long this will last? Lykke's exchange offers zero trading fees on approx. 100 asset classes and this is just the beginning. An exciting future lies ahead for this unusual and extremely capable Swiss fintech company. With an established user base of over 100,000 clients, they are on the cusp of substantial growth potential.
Despite being currently outshone by competitors who have taken a different regulatory approach to the crypto world, Lykke remains undeterred. Strong foundations are required to create a global marketplace where investors large and small are on an equal footing and can trade safely and securely. Leveraging blockchain's benefits of immediate settlement and direct ownership for its customers, Lykke stands out for its unusual fee policy, bright investment products and simple APIs.
Until now the paradigm for trading has necessarily been segregated and fragmented. In the pre-blockchain era, you would go to one exchange to trade stocks and shares. If you wanted to trade fiat currencies, you would go somewhere else. Yet another exchange would deal with commodities, and then another for the more recent utility/staking tokens and coins available. It's a fragmented and convoluted process and one of the many root causes of the problems we are experiencing in the current financial ecosystem.
That's why Lykke is on a mission to usher in a v2.0 — to bring all this trading activity under one roof, accessed in digitized form on your smartphone. They see a future where it will not matter what you want to exchange or trade — your creative work, your belongings or even your time will all eventually be assigned a digital representation, making this possible. As Lykke waits patiently for the security dealer license it needs to run an OTF, with all the promise that brings for a tokenized future, here's a brief outline of the asset types currently available on Lykke.
---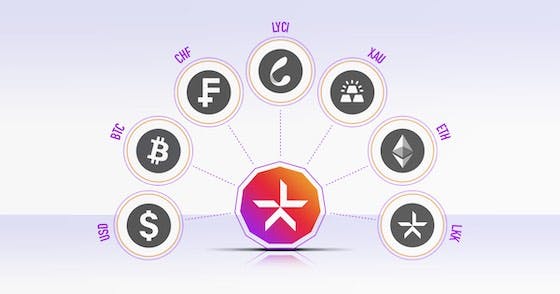 Fiat currencies
There are 21 national currencies now available for trade on Lykke, which is unusually high for an exchange with so many cryptocurrencies listed, but it makes sense. Their expertise in FX trading comes from their CEO Dr. Richard Olsen's experience in pioneering high-frequency finance research when co-founding OANDA. Lykke is intent on building a global marketplace where anything can be traded, and they understand how important fiat currencies are when attempting to value an asset. With 0% trading fees and low spreads for all digital assets, it is easy to buy and sell on Lykke without incurring unnecessary expenses along the way. If you have a moment, check the full list of all 21 national currencies listed on the exchange.
---
LyCI
Lykke's flagship service is LyCI, a weighted index token that consolidates and tracks a selection of the worlds top 25 performing cryptocurrencies. Those who prefer to hold rather than flip or scalp are faced with a huge amount of research to choose projects with the best potential to keep up. If your predictions are off, there is little choice but to sell and buy into a different asset as the market continues to develop. However, this can be a full-time job and few of us have the time to monitor the market so closely and keep up with every little development that should trigger a buy or a sell. But why is this important? The configurations of the top ranked tokens/coins are set to change dramatically over the next 10 years — even Bitcoin may disappear in that time frame. LyCI solves this problem by automatically choosing the top 25 cryptos with the largest market capitalization on your behalf.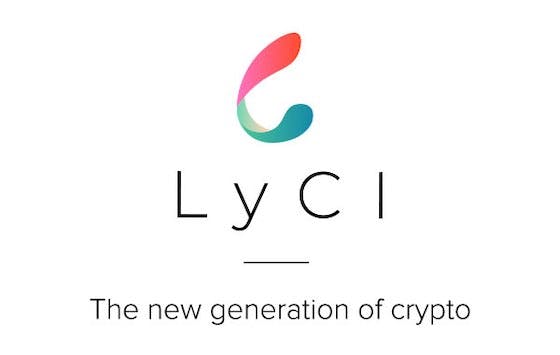 Put simply, when you buy LyCI, you are purchasing a representation of those assets that are the top 25 at any given moment in time. As an investor, you can buy LyCI and without thinking you will always be investing in the market leader. It provides a snapshot of the crypto market in one single, easily understandable measure. As you know, perhaps from experience, those that rank in the top 25 today may not be the exact same as tomorrow, or even in the next hour, but there is no need to act. The beauty of LyCI is the financial engineering behind it, which allows efficient, automated, low-cost hedging as its constituents re-balance minute-by-minute. It does all the work for you. If you believe in crypto, but are short on time, this service helps you stay involved in the market, but at significantly lower risk.
---
LKK
The Lykke cryptocurrency, or LKK, is the Lykke Exchange native asset that represents shares in the Lykke Corp. LKK was issued by and listed on Lykke in 2016, and was one of the first security tokens to be launched. As a security, this means the bearer has the right to stock which is traded in token form. As of now, the only way to acquire LKK is to buy it on Lykke Exchange, where it is paired with EUR, USD, GBP and CHF. However there are plans for LKK to soon be widely traded on crypto exchanges as the regulatory system develops.
---
Commodities
You can trade digitized commodities on Lykke too. At the moment, there are four assets available: silver, gold, platinum and palladium. However this number could swiftly grow if and when Lykke are granted their OTF licence. Stay tuned as more commodities are made available, again with 0% trading fees.
---
Tokens
If and when Lykke's OTF licence is granted, several new asset classes will be added to Lykke's roster. However it is Lykke's policy to follow a strategy of regulatory arbitrage since they believe that their mission to democratize finance and make financial investments more accessible cannot be achieved within a single regulatory framework. Therefore, their unregulated exchange activity will remain a very important part of the business.
In fact, they anticipate that a strong, successful OTF operation will attract new clients and additional liquidity to the existing unregulated exchange.
With working platforms which are generating revenue a priority, read on below for a selection of just some of the platforms listed on Lykke where their native tokens can be used. There are approximately 80 digital assets listed on the exchange, but these are among some of the most developed, with a strong foundation for the use case of their respective tokens.
---
Ethereum (ETH)
A relative old timer in the crypto space, Ethereum is a decentralized platform that runs smart contracts: applications that run exactly as programmed, and without any possibility of downtime, fraud or third-party interference. It is specifically designed for people to build decentralized applications (or DApps for short). Its legion of admirers claim it is how the Internet was supposed to work: a censorship-proof planetary scale computer, where users always stay in control of their own funds and personal data.
Ethereum can be used to build financial applications that are fully trustworthy and transparent because they run on the blockchain. Its online cryptographically secure systems for managing property and contracts, social networking and messaging systems allow users to maintain control of their own data. By providing a universal programmable blockchain and packaging it up into a client that anyone can use, the Ethereum project hopes to revolutionize finance, peer-to-peer commerce, distributed governance and human collaboration as a whole.


The Ethereum network's native token, ETH, plays a fundamental role. Not only is it used to fund gas, the "gasoline" that powers the network, its users also pay transaction fees in ETH. Miners get rewards in ETH too, and it is managed as a part of the underlying Ethereum core blockchain. For an insight into what the future holds for Ethereum check this video. If anything is holding Ethereum back right now, it is its scaling difficulties. However, this is planned to be overcome in near future with Plasma, a technology they are developing with OMG, the next platform on this list.
---
OmiseGO (OMG)
Headquartered in Bangkok, Thailand, OmiseGO was established in 2017 to help people securely offer and access financial services, as well as exchange and spend digital assets anytime and anywhere. The goal of the OmiseGO Network is to facilitate instant, P2P transactions in real-time, regardless of geographical location, asset class or application. The OmiseGO eWallet Suite allows users to build and integrate a front-end interface for different types of digital transactions, and with transaction speeds of up to 4,000 TPS, OmiseGo represents one of the fastest networks around. The ecosystem itself also includes a number of key components that encourage friction-less transactions and wider access to financial services.
As mentioned above, OMG is working closely with ETH on its plasma product, helping to scale up the Ethereum mainnet for everyone to use. Links with mainstream finance are also being nurtured through Omise's recent partnership with Citibank in Thailand, launching a "Pay with Points" initiative, enhancing Citi cardholders' consumer payment options when shopping at Omise merchant stores. Also note that they now have a live exchange called Go.exchange, and their official TG is definitely worth a look. To continue your research, check out the official guide or this extremely thorough community-inspired Beginner's Guide by the diligent Jérémie Grandsenne. The official blogs are also a great place to start reading.

OMG is primarily a staking token. However, please note that staking has not yet begun, and no precise date for launch has been specified. In their roadmap, the timeline of "Q4 and beyond" is stated, but the general mood of their Telegram group indicates this may be delayed. If and when staking launches, holders of OMG tokens will get the right to join pools to share in the running of validator nodes on OMG's Proof of Stake network, using their tokens as a security deposit. Any returns may be paid out in any currency, including but not limited to OMG. Full details about what's involved can be found this article, and several burning questions are answered here. For more ins and outs of what OmiseGo have in store, check out this handy stats page too.
---
Genesis Vision (GVT)
Genesis Vision is the decentralized platform for the private trust management market, built on blockchain technology and smart contracts. They combine exchanges, brokers, traders and investors into a decentralized open and honest network, making the financial market even more global. Having recently launched, Genesis Vision's goal is to create a service where managers, brokers, traders and, exchanges can access a diverse range of assets and other financial instruments through one interface. Genesis Markets (the crypto broker developed by GV) gives managers the ability to trade crypto, while Exante allows the same for stocks. Partnerships with Huobi, Binance and Roboforex are already in place, with more to come. To get as up to date as possible, the community admins for the GVT channel recommend this Reddit write up.
When attempting to understand the difference between funds and programs, funds are not actively traded crypto asset portfolios of crypto assets — they are more like an index fund. The manager allocates a percentage of its portfolio to a specific coin/token and can re-balance the composition periodically. Fund investors can put money in or take their money out at any time, and usually have lower entry and exit fees (approx. 2% on average). By contrast, programs are actively traded, in a similar way to hedge funds. Managers can use Genesis Markets or any of the broker partners and trade using stop losses, asks, bids, etc., just as they would on any exchange. Here, entry fees tend to be higher and investors also have to pay success fees on profits. Also note that the investor is locked into the program for the duration of the trading period.
The platform's host token, GVT, gives holders access to the platform's copy trading functionality. Moreover, any profits that investors gain from the platform's investment programs are distributed in GVT too. The platform commission (10% of profits made) charged can be reduced if an investor locks away a sufficient number of GVT tokens (reduced by 1 percentage point for every 1,000 GVT locked away). GVT is also used for discounts by managers. The more they hold, the more trading fees discounts they can enjoy. Last but not least, every time a platform user invests money into a fund, 1% of their investment will also be used to buy GVT. Progress is developing quickly, with plenty of exciting developments planned, including the next quarterly token burn (30% of all success fees collected, which is 3% of all profits generated by program managers). Here is the most recent platform update, and more are envisaged in the days ahead. Watch this space.
---
Bitcoin Cash (BCH)
Bitcoin Cash emerged in August 2017 in controversial circumstances as a solution to Bitcoin's scaling issues, but has gone from strength to strength since the fork. They realized that by increasing the size of the blocks, more transactions could be processed — solving the scaling issue Bitcoin was dealing with. Referring to their coin as "the best money in the world", the Bitcoin Cash community consider themselves to be the real standard bearers of Satoshi Nakamoto's original promise of Bitcoin being "peer-to-peer electronic cash". Events in Cyprus and other countries around the world have shown in the past that bank deposits are not 100% safe, and can be restricted at the whim of political expediency. Even under the best of conditions, banks can make mistakes, block/freeze your account, or otherwise restrict your access to the money they store for you. This power extends to charging fees without notice or even closing your account should the mood take them.
Bitcoin Cash represents an answer to these problems by granting complete sovereignty over your funds, with no limitations on where it can be accessed. Its limited supply of 21 million coins is Bitcoin Cash's rebuttal to the tendency for central banks to print money (quantitative easing) when an economy gets into difficulty. This simply devalues all our savings, and so Bitcoin Cash represents money that can actually be relied on. Merchants choosing to accept BCH can expect very low fees too, typically less than one penny, with costs that beat credit card processing if conversion to fiat is required. Unlike credit cards, there are also no automatic chargebacks or other unexpected fees. Now with many crypto enthusiasts now choosing BCH as their preferred payment method, forward thinking merchants are already starting to provide this option, growing their businesses in the process.
---
Augur (REP)
After going live in late summer 2018, Augur is one of the most established applications running on the Ethereum network and works as a decentralized prediction market. The concept is based on the wisdom of crowds, which was brought to wider public attention by James Surowiecki in his 2004 book. Augur proposes that large groups of people are collectively better than individual experts at problem-solving, decision making, innovating and predicting, especially when money is on the line. These predictions are made on a protocol owned and operated by holders of the Ethereum-based Reputation (REP) token. In these markets, users are able to bet on the outcomes of events by purchasing shares (in ETH) that would either support or refute the proposed outcomes of such events. By design, the user-created markets return fees to market participants while automating payouts using software intended to be fair, open to all — and completely decentralized.
Regarding REP itself, it is the Augur betting platform's host token. Its full name is "Reputation," and that's the best way to view it — as your reputation on the line. Whenever you use REP on the Augur platform, you are literally staking your reputation on the actions you take. REP can be used to create bets, dispute betting outcomes and buy participation tokens. You can also receive REPs by being correct about a dispute or reporting on the outcome of a bet. For those keen to learn more, Augur's website and blog are great resources. Also check here for a tutorial on how to start using Augur now!
---
The road ahead
Having submitted their application for an OTF licence earlier this year, Lykke must now wait. The issuance of the licence is entirely dependent on the decision reached by FINMA, the Swiss regulator. Early signs are very encouraging since SEBA Crypto and Sygnum both were granted banking licences . However, with no precedent in place for Lykke's unique business concept, which does not require a banking licence, its success still remains unclear.
Future asset classes are envisaged to include equity financing, contracts for difference (CFD), futures & options on digital assets, zero coupon bonds and other fixed income, natural capital assets, industry settlement coins, land and real estate, crowd-funded retail loans, and much more. Sign up to Lykke and join their friendly and engaging Telegram Group to hear all the latest updates first.
Published by @soldonhive on Friday 20th September 2019
---
---