Three Great Blockchain Platforms For Making Money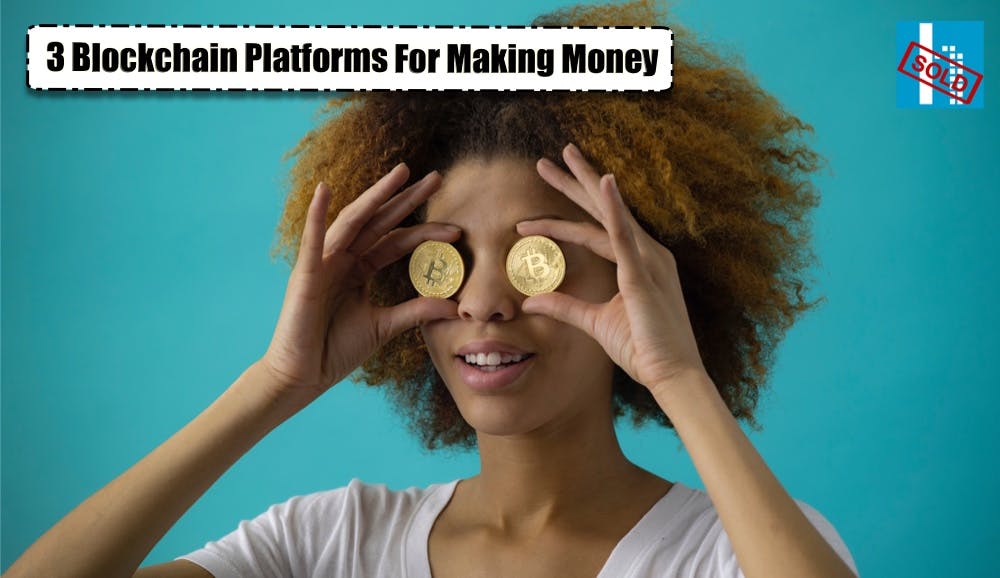 Whispers of a bull run grow remain consistently present and some of the shrewder traders and HODLers out there are trying to find that elusive edge. I guess that's why you're here too! With so much potentially at stake in the months ahead, I don't blame you. As you scan through this article, people looking to secure their financial futures are optimistically searching CoinMarketCap and other resources for tokens with working platforms where people can actually make money.
Now I don't mean saving money here through discounts, like what's offered with the fantastic Binance coin and others. There are plenty of tokens out there like that and they're great. No disrespect intended, of course, but increasingly more people want to find tokens to use on platforms where more tokens (or preferably just cold, hard cash) can be earned or won. The real deal, as it were.
Why, I hear you ask? Well, many crypto veterans now believe that owning tokens just for speculation's sake is no longer enough. They want access to the blockchain platforms where they can earn the most money too. The speculative component just adds another welcome dimension. To them the real value is finding tokens that will give them access to money-spinning platforms— that's what will push up a token's price over the long term.
They see the dotcom bubble as a history lesson that will repeat itself with blockchain. Like then, they believe that working products where users can make money will be the ones that come good and emerge from the bear market wreckage. In other words they expect the wheat to get separated from the chaff. Eventually ICO funds will run out and projects will have to stand on their own two feet. If this sounds like your philosophy too, reading on might not be a bad idea!
So which are the best blockchain platforms for making money right now?
That's the burning question on everyone's lips. If there's a current list online, We've yet to find it. And with lots having happened over the last 12 months, the cryptosphere is long overdue an update — or at least something! Here at soldOnHive we obviously have a number 1 recommendation in hiveterminal.com but, we acknowledge there are other options out there. So without further ado here are 3 alternative blockchain platforms for making money — in no particular order.
Brave Browser (BAT)
Brave Browser and its Basic Attention Token (BAT) has gathered much attention since its launch, and rightly so. Not least because you can make money by simply using the browser itself. Especially popular among those who value their security and privacy, Brave is available on Android and iOS. Working on a reward system, the Brave browser can be used by any website owner or YouTube creator to earn BAT tokens. You can sell them, should you wish to do so, for bitcoin or fiat money and it's listed on Coinbase which has a great tradition for listing tokens with profitable platforms. For full instructions, check out this beautifully written guide here. If you prefer videos, the one below will get you up and running in a jiffy.
Steemit (STEEM)
Next up is one of our alternate favourites. Steem is the cryptocurrency that powers the decentralized Steemit, a social media platform that encourages user participation through micro-payments. Many compare it to Reddit, but the key difference is that creators can be recompensed by users for their endeavors— a massive step up from just upvoting or downvoting posts. With hundreds of thousands of users, the Steemit blockchain generates cryptocurrency through the creation of intelligent content by its users. The reward distribution system in Steemit is not straightforward but the guidance here will help you. Steem dollars (SBD) can be exchanged for Bitcoin as an intermediary currency on Poloniex, Bitwala and Bittrex, among others. If you're looking for a platform that generates you income while you hold, then Steemit should be right at the top of your list.
LBRY
As writers, we obviously love Steemit but also are similarly enamored with LBRY. To explain, it functions as a decentralized platform for sharing video content. Not only is the content on there great to watch, it gets better. You're rewarded with LBC tokens for creating it and consuming it. Very little else is required but to do what you would often happily do for free on a wet and windy Sunday afternoon. Other ways to obtain LBCs include contributions to the LBRY project and mining, but please see here for a full list on all the ways to earn LBC. In order to take part in LBRY's ecosystem, you need to download the app (available for Linux, macOS, Windows, as well as iOS and Android).
As you accumulate your LBC tokens, you can trade them to make profit or simply cash out to hard currency. Or you can hold them and watch the value fluctuate, hopefully in your favored direction! LBC can be exchanged for Bitcoin at Poloniex, Bitwala, Bittrex, and several others, from where you can transfer to a fiat exchange should you wish to do so.
So, there you have it! One small step towards completing a comprehensive list of the world's best blockchain platforms for making money. But this is far from perfect — the number of tokens out there is vast and there are probably other very good candidates out there, even though $HVN is high on our list.
If you know of any other blockchain platforms which offer opportunities to make good money, please let us know in the comments section.
Published by @soldonhive on Saturday 23rd May 2020
---
---